New Entry Gate For Corbett Tiger Reserve (Sonanadi Zone). Reach Corbett Tiger Reserve In Just 2:30 Hours From Jolly Grant Airport, Dehradun
Visitors can enter in it from Pakhro entery gate. Sonanadi Zone is blessed with amazing beauty of flora and fauna. Animals like Tiger, Elephant, and leopards are some that you can see in the zone. In Sonanadi, which comes under Corbett Tiger Reserve, three type of government forest rest house available to make tourists stay a memorable one – Saneh, Kolhuchaur, Pakhro, Moreghatti etc. Besides this you can book private rest house, hotels at Kotdwar.
Sonanadi Wildlife Sanctuary is spread over 301.18 sq.km of prime forests of the Shiwalik Terai biotic province. Sonanadi literally means the river of gold. Gold panning used to be carried out in the river before the area became a sanctuary.
Jungle Safari is open for Pakhro Entery Gate
The nearest stations are Kotdwar and Lansedowne
Road and Train: Kotdwar is well connected with Road and trains.
Airport: Jollygrant Airport, Dehradun
Pakhro Gate is one of the entry point to Sonanadi Range of Corbett National Park. Located at 23 km from Kotdwara. It takes 30 minutes drive from Kotdwar. It is just near Pakhro Forest Rest House
The Pakhro Safari booking will be completed in two parts.
First Get Permit of Sonanadi Jungle Safari from Corbett Official website.
Book your Gypsy (Jeep) from this website. Only authorized/Registered Gypsy operator is permitted to enter this area. Private vehicles not allowed.
Once you get Sonanadi Jungle Safari Permit (Pakhro Gate Only). You need to have a Gypsy (Jeep/Registered Vehicle for Safari). A Gypsy has the capacity of 6 persons + 1 Child (up to 5 years). Maximum 7 persons (Including children) can accommodate in one Gypsy. If you are more than 7 get one more permit. We don't overload Gypsy as it passes through Off-road jungle conditions. Kindly don't pressurize us over this. Life (Safety) is first in deep inside jungle where there is no network. 
Safari Cost:
INR.4000 (up to 1-4 persons)
INR. 4500 (5-7 persons)
Click on below link, fill the form by uploading your permit, submit it and make payment for confirmation.
Note:
Most of guests think that Gypsy fees, driver fees included in their permit and argue regarding this. Please understand Corbett Authority takes Entry Charge of every thing like yours (as Guest according to number of persons and nationality), Your Gypsy driver and Gypsy entry charges, all will be included in your permit, but Safari cost (which will be extra) goes to operator (Driver/owner), which is always paid separately (not included in your entry permit cost). Still you have any query, kindly click on CONTACT link above for further information. 
There are only 10 morning, 10 evening permits (limited permits) everyday. So right time booking may help you to enjoy this as well as other Safari area of Sonanadi Zone.
If you are keen to explore this Sonanadi zone on your specified date and time even it is completely booked. Some of zones (Vatanvasa and Kolhu Zones) still not online, but believe us also good (some time more good) than Pakhro. Cash Booking Permit available on their entry gate.  Yet Gypsy pre-booking is mandatory. As we always send Gypsy once Guest confirm us through proper booking procedure. Otherwise you are at your own.
We are committed for best wildlife experience and service for all bookings on this websites.
NIGHT STAY OPTIONS NEAR PAKHRO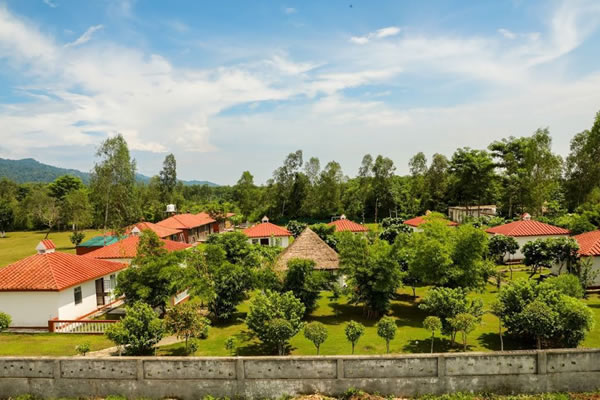 Guests required more comfort, amenities, extra games, fun, other activities during their stay may choose following resort for their comfortable stay. Resorts generally developed in buffer zone (Jungle attach villages), with jungle feel and modern amenities.
About Resort
Located on the Kotdwar-Kalagarh jungle road through Pakhro entry, resort invites you to witness the untamed beauty of Kalagarh Tiger Reserve. Built on 17 acres of land and surrounded by wild woods, this resort is an ideal jungle hideaway near Delhi. Making your way through a dense forest, as you enter the resort you get to notice a wonderful blend of Kumaoni and modern architecture. Set as cluster of private cottages and rooms with contemporary amenities, this resort offers a swimming pool, an adventure park, a duck pond, organic farmland, a thatched roof restaurant, machan and a gazebo for you to relax and enjoy. Set out for a wildlife safari at Kalagarh Tiger Reserve, indulge in some adventure activities like Table Tennis, Snooker, Gym, archery, air shooting within the resort, or simply do nothing just enjoy the view of the adjoining forest while sipping a hot cup of tea in our gazebo or machan. At night don't miss the opportunity to sight the wildlife from the terrace of one our private cottages.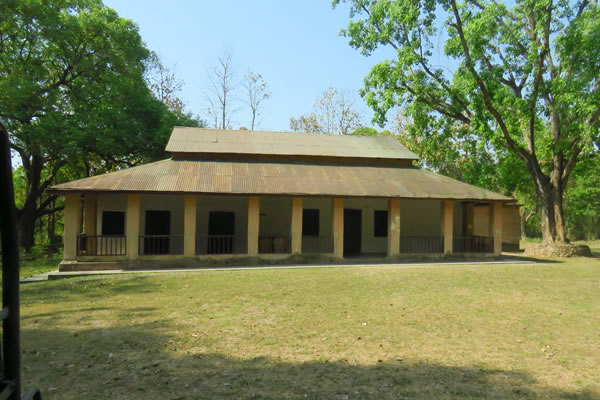 Just wish to enjoy and feel of jungle, go to in the British era. All Uttarakhand FRH are heritage building of British Raj. Now a days Uttarakhand Forest Department renovated it. So all the basic comfort of stay bed, (2 Rooms), kitchen and dining available. Yet you have to bring raw food along with you. FRH caretaker will made food for you, while you explore jungle. Maximum 4+2 persons can book at a time any one FRH. For big group kindly consider Resort or other stay options.
FRH near Pakhro Entry
Pakhro FRH (0 Km)
Saneh FRH (9 Km)
Morghatti (6 Km, inside Pakhro)
Kolhuchaur (18 km)
Only Pakhro FRH can be booked from Corbett Official Website, for other FRH you have to use old time proper channel to book. We can assist you on fare amount of service charges and timely request (at least 7 days before your arrival, for instant booking request kindly excuse us, we cannot pressurise Forest Department to consider your request as priority.)